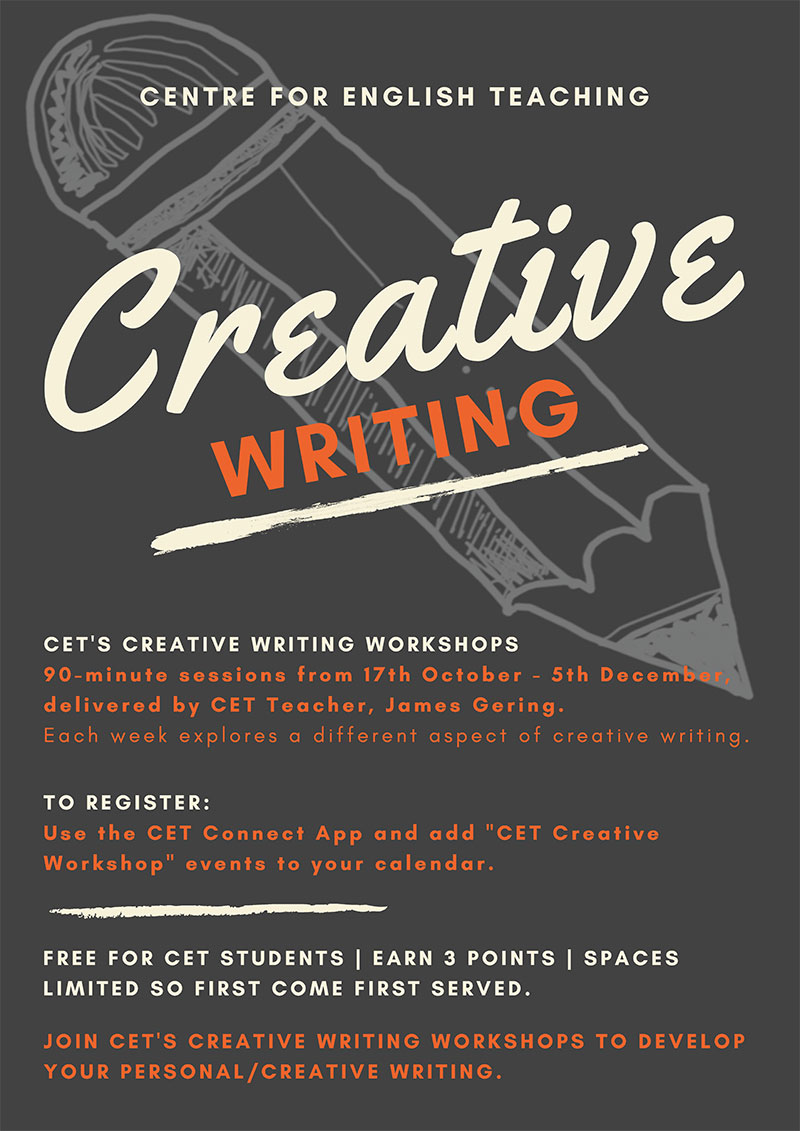 Creative Writing Workshops
May 2018
For some time I have mulled over how to contribute in more ways at the university where I have (miraculously) taught for a decade. I thought about hosting another workshop at one of the staff development days. Or updating and delivering the lecture on academic writing. But these are piecemeal one-offs. Perhaps I could do something more substantial – like introduce a creative writing program to complement the rigours of the academic writing program.
My students? Scions of the budding superpower of the 21st century, Chinese for the most part, sons and daughters of the ultra-successful, people who are likely to be ultra hard-working, perhaps connected, or smart and savvy or sporting a combination of winning traits and ways.
Could the program be successful? I hope so. Many of our oh-so-able students stem from a humanities background; hundreds of others – be they accountants or managers, taxidermists or geneticists – may have a wish to creatively wield some of their new words or to keep a diary of their days down under, which they may choose to render in blog form. Back in China, their peers may read the blogs and be inspired to follow the trail. If just one of my future creative writing students starts an Aussie blog, publishes a short story or relieves their homesickness by confiding in a journal, then I will be a chuffed writing teacher.
July 2018
My creative writing workshops at the University of Sydney look to be going ahead! Wow. So happy! After half a century on this planet, one of my primary dreams is coming true – teaching creative writing, getting to share the building blocks and artistic element of my calling. Thanks goes to the director of the center, who gave me the green light to pilot this program. Now for the hard work. Time to shape the course and develop the PowerPoint slides. Time to shake the right hand of the education arm and the left hand of the marketing arm – without getting too tangled. Not a problem. A little goodwill has a way of spreading.